posted 06 Oct 2017
Those of you who will remember The Octagon Theatre in its previous form as The Johnson Hall may well remember seeing Wrestling advertised at the venue – maybe you even came along! Wrestling was once a hugely popular live event for the town and we are delighted that over 40 years on the new Westlands Entertainment Venue is able to bring that history full circle with a major wrestling event this November with some exciting names and features.
Here's a little more from the promoters of Big League Wrestling…
On Sunday 26th November a truly historic Professional Wrestling live event is coming to Westlands Yeovil. This will be the very first Live Wrestling event at Westlands since the venue's major refurbishment project.
Headlining Big League Wrestling's one year anniversary show GrandSlam will be none other than the Mexican Superstar Alberto El Patron (F.K.A Alberto Del Rio) a former 4-time WWE World Heavyweight Champion who will be making his Somerset debut. He also won the 2011 Royal Rumble and the 2011 Money in the Bank ladder match, making him the only professional wrestler in World Wrestling Entertainment history to win both in the same calendar year.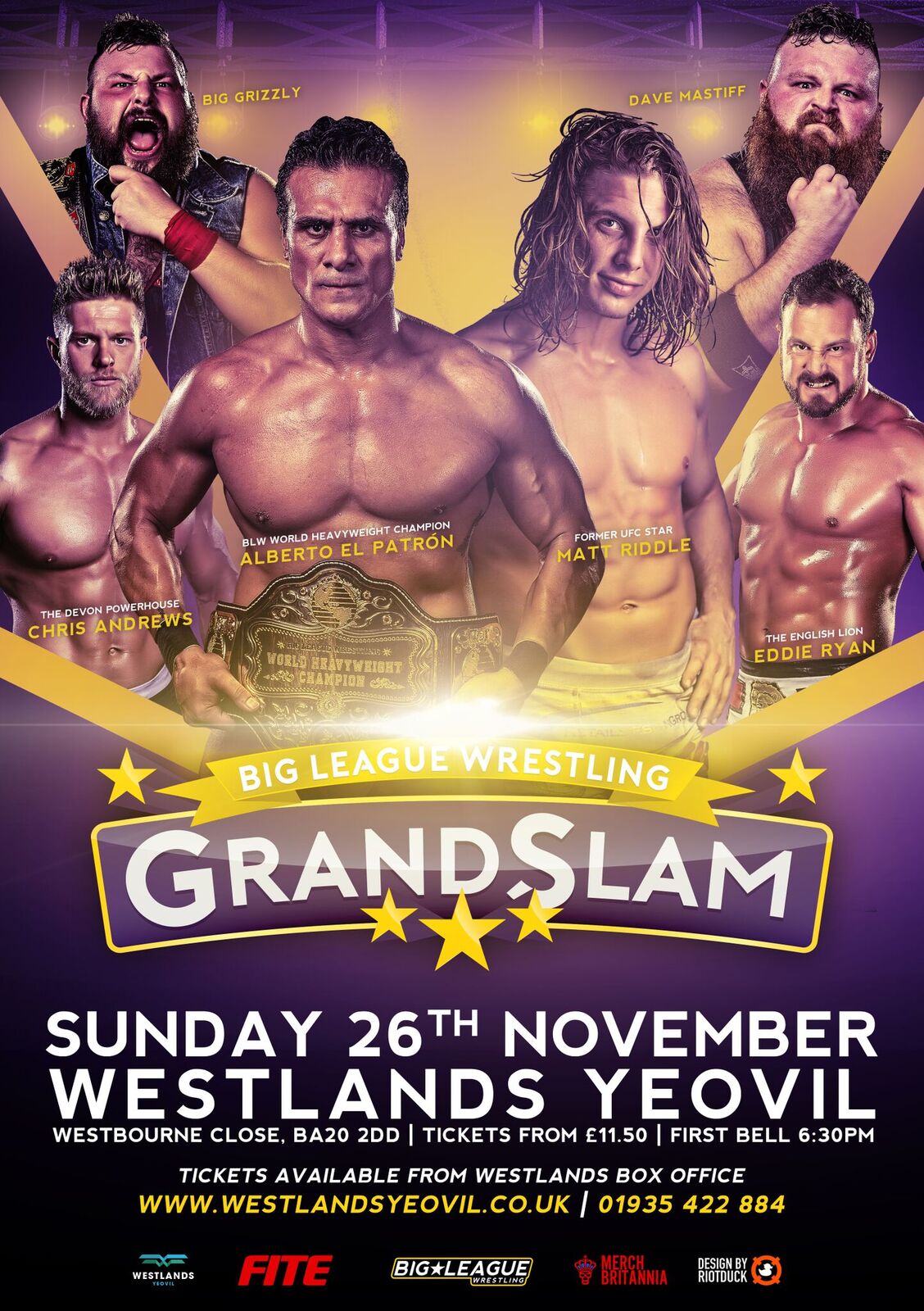 Alberto El Patron's opponent in the main event has just been announced as former UFC fighter Matt Riddle. Riddle made a name for himself by appearing on Spike TV's The Ultimate Fighter 7, and went on to go on a four-fight win streak in the UFC before leaving to pursue a career in Professional Wrestling. In 2016, readers of the Wrestling Observer Newsletter recognized the American as the wrestling Rookie of the Year and the Most Improved wrestler of the year.
In addition the show will be broadcast worldwide LIVE on Pay-Per-View, something which has never been done before in Somerset. The show will be available via FITE TV for £9.99. FITE TV is the easiest way to watch fighting sports events live on your TV without the need of cable. The UFC has struck a deal with online combat-sports network FITE.TV, which will stream next week's UFC 215 through its app and website.
The show will feature 6 huge matches, which includes two championship matches. Alberto El Patron will defend the BLW World Heavyweight Championship in the Main Event against Matt Riddle. There will be a Women's match to crown the first ever BLW Women's Champion. An "Unsanctioned Street Fight" between two well respected local wrestlers and bitter enemies Chris Andrews and Eddie Ryan. Former Tag Team Partners Kieran Bruce and Jake McCluskey will finally meet one another in a match one year in the making. As well as a feature 5 vs 5 Survivor Elimination Match with wrestlers representing BLW and Dorset Based promotion Ultimate Pro Wrestling.
All tickets are available through the Westlands Yeovil Box Office, including meet and greet tickets for Alberto El Patron and Matt Riddle.
So why not come and join us at Westlands as we make television history for Somerset? Tickets are available now via our Sporting Events listings and meet and greets with the pros can be purchased by calling our Box Office on 01935 422884