posted 13 Sep 2023
It's been an epic summer of fun here at The Octagon Theatre and Westlands Entertainment Venue as our arts engagement and outreach events through the school holidays have now drawn to a close, with plenty of incredible creative engagement opportunities both in-house and all over the region taking place that drew big crowds and tonnes of 'wow!' factor.
Our summer schools have proved very popular this year, which included exciting partnerships with Stuff and Nonsense Theatre Company, Castaway Theatre Group and Somerset Youth Dance Company.
In mid-August, an inclusive group of young people worked side by side with a professional director, composer and puppet maker from Stuff and Nonsense Theatre Company to create an imaginative 'Puppet Cabaret' from scratch devising their own puppets and original songs.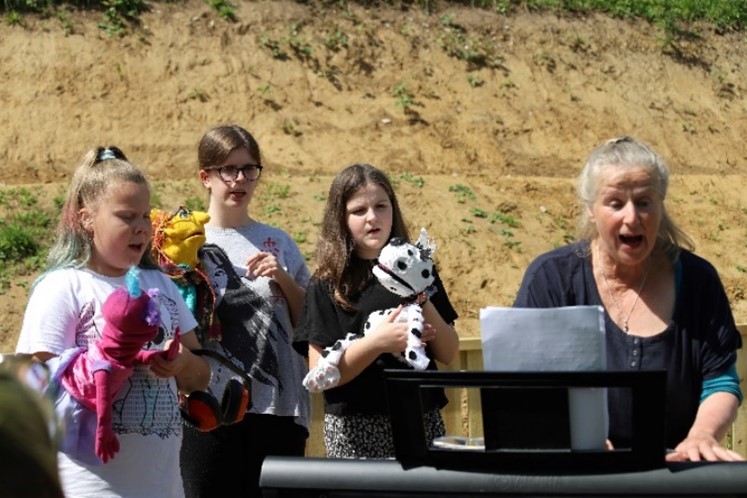 Feedback from this week was inspiring with a vast majority of the young participants describing this as their first time on stage in front of an audience, remarking on how the week had been "life changing", building their confidence and enabling them to make new friends in a supportive environment.
"After the first day she came out buzzing! She's loved the puppets and painting and making them. It's nice to see them all actively engaged as a group and working together." - Stuff & Nonsense participant parent/carer.
Somerset Youth Dance Company returned with a spectacular dance show all created in just five days. A packed company of young talent performed a circus inspired extravaganza in the Ballroom on Friday 26 August to a large audience of proud friends and family. Castaways also continued their summer school success this year, producing a new piece of theatre based on Snow White with 49 young theatre makers.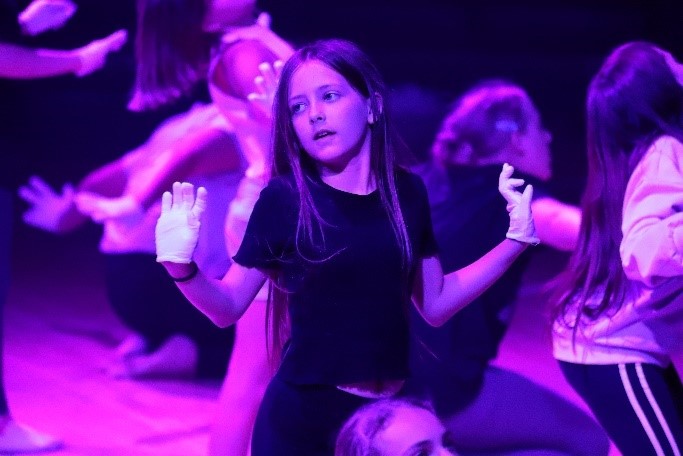 Whilst our summer schools were in full flow, parks and outdoor spaces in Yeovil, Chard, Wincanton and Langport burst into creative life. Our Arts Engagement & Outreach team joined up with Somerset Council's Locality team on five 'Play Days' across the county to offer a range of workshops and creative experiences for families. Highlights included Creative Clay sessions, 3D Recycled Art workshops and Gamelan music sessions which were incredibly popular and described as "terrific – I've never had so much fun", "amazing!" and "a tremendous workshop!". The weather on all five days was fantastic which helped to bring out a total of more than 1,400 people that attended the events in parks across Somerset.
"This is a fabulous FREE fun event that all parents and kids can get involved in, no matter what! Thank you and please bring it back next year!" - Creative Clay workshop participant parent/carer.
At Jocelyn Park in Chard, Jellyfish Theatre performed their latest show 'The Wagon of Dreams' to captivated family audiences of over 200 people throughout the day. The production was a magical feast for the eyes where puppet characters played, told stories and sung from inside a decorated caravan. Audience feedback was overwhelmingly positive with children blown away by the larger-than-life puppets they'd seen and families returning to see the show more than once.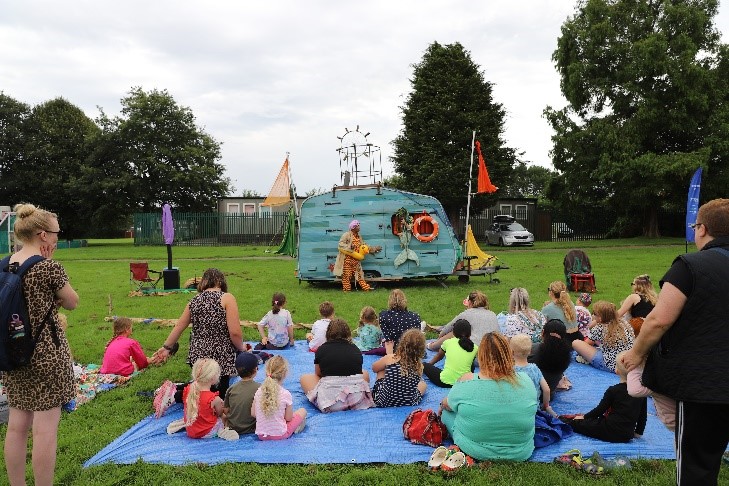 Our Schools Out street dance workshops led by in-house practitioner Carrie Madgwick took place on 21 August at Yew Tree and Milford Hall for young people to huge acclaim! "My children loved it and now want to join dance classes!", "It was fantastic!", "It was friendly, fun and everyone was welcome!".
For the summer finale, we were delighted to partner with 'Cultivate' for Take Art as part of their 'Chill on the Hill 2023' event. Supported by Ham Hill Country Park, the family day took place on Friday 25 August, at the stone circle and included outdoor aerial workshops, creative arts and nature walks for children, local food and performances.
The Octagon Theatre & Westlands Entertainment Venue supported the event by hosting the sensational Sonia Sabri Dance Company with their 'Mughal Miniatures' walkabout performance of 'The Princess and the Peacock'. The costumes and peacock character were stunning, inviting young children to feed the peacock with flower petals. "Wow look at the peacock!" said one audience member - "It's so magical!". The company also facilitated a Bollywood workshop to a group of children as part of the morning workshop programme.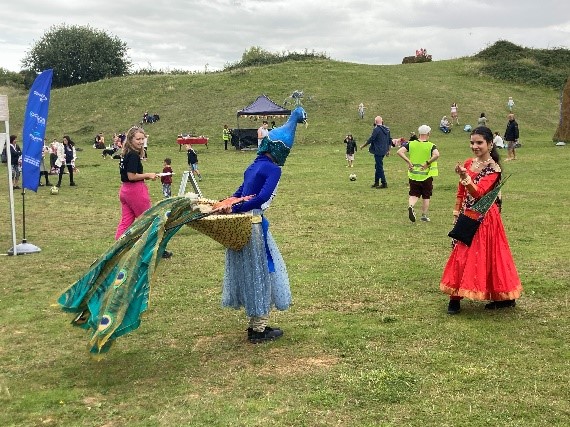 The formidable 'Pirates of the Carabina' also performed 'Pirate Taxi' to an audience of 325 adults, children and dogs!
"It is so lovely to be here today, as a family, and see the stone circle area used in such a creative way! We have enjoyed the whole day, brought a picnic, and loved such fantastic performances. We can't wait for the next one." - 'Pirate Taxi' Audience member.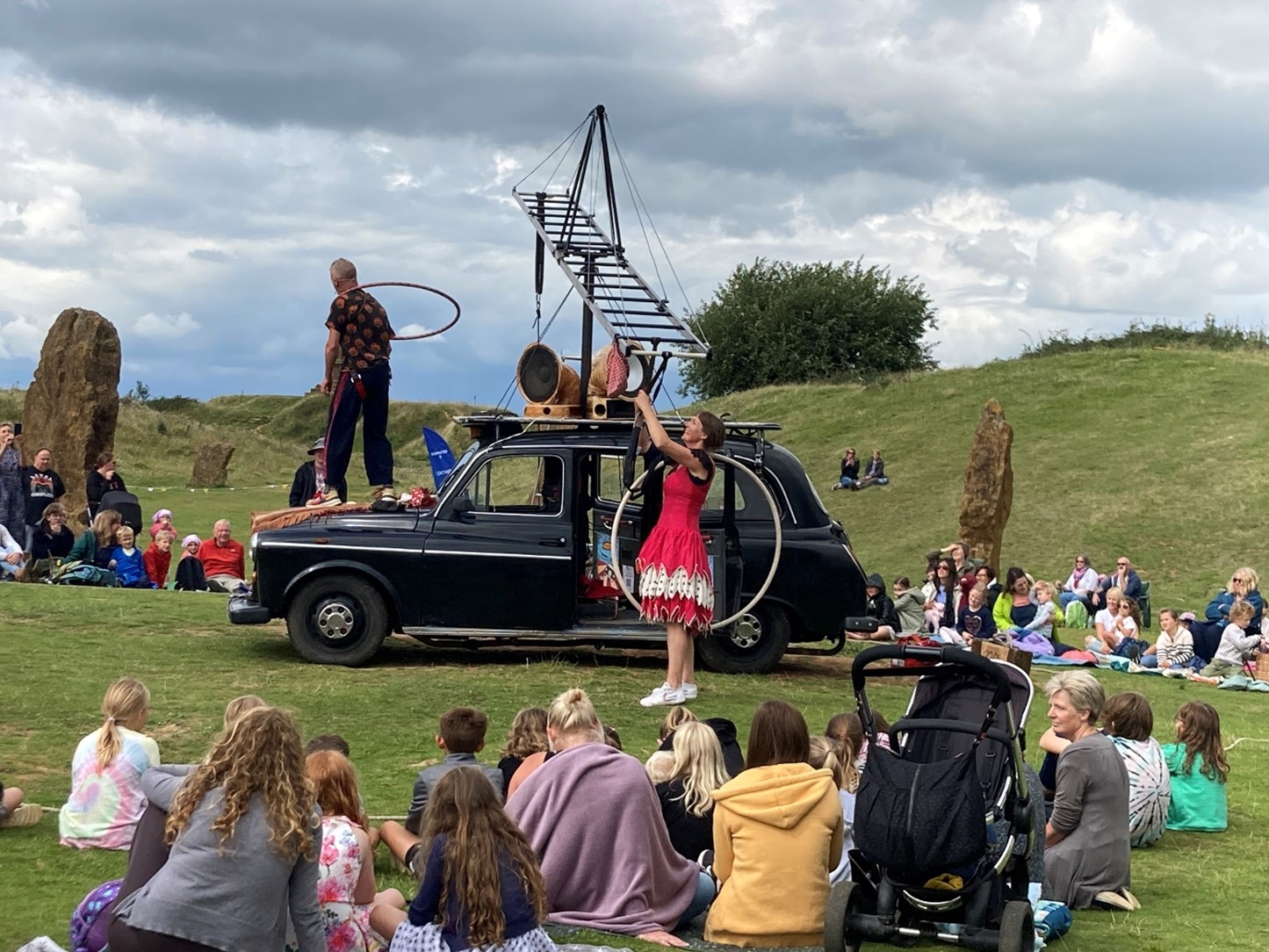 It's been a busy summer, but one our Arts Engagement & Outreach team won't forget due to the successes. There are plenty more creative opportunities and developments to come this year and beyond. If you know anyone – young person or adult – who would like to join our Octagon Academy workshops or has an idea about what we should do next, we'd love to hear from you. Drop our team an email at kate.mcgregor@somerset.gov.uk or call the Box Office on 01935 422884.