posted 26 Aug 2021
We are delighted to share with you an update on the redevelopment plans for The Octagon Theatre that will see the current building transformed into a flagship venue for the arts and entertainment.
"Our plans for The Octagon are to create a flagship centre for the creative arts that will provide amazing opportunities for our residents and bring world class artists to Somerset. The plans see The Octagon Theatre transformed into a centre of excellence that will spark economic regeneration for the area and so many opportunities for residents to improve their well-being. The venue will mean less trips out of the county to access brilliant shows and entertainment with superb events right on your doorstep." - Arts and Entertainment Venues Manager, Adam Burgan
October 2023 Update
Somerset Council's Executive discussed the redevelopment plans for The Octagon Theatre in light of rising interest rates.
The business case for the Octagon redevelopment was initially approved on the premise of borrowing £16.318m which would be repaid, plus interest, by users of the venue through tickets sales and the ticket levy.
Since then, interest rates have risen four-fold, from 1.5% when the business case was approved to around 5.6% last month – dramatically increasing the costs of the project, even if construction costs stay the same.
At the meeting members were presented with an Officer report which can be viewed online.
Following consideration of the officer report, appendices and discussion, the Executive:
Confirmed its commitment to the Octagon project as a flagship venue to deliver arts and culture services in Yeovil for Somerset.
Acknowledged that the current business case could no longer be met, and a revised business case would be necessary.
Acknowledged the revenue financial pressure created by the works to date and instructed Officers to explore mitigations to these costs.
Instructed officers to continue to work with the Department for Culture Media and Sports (DCMS) and Arts Council England (ACE) to find a viable Octagon business case to deliver cultural services in Yeovil for Somerset.
Instructed work to be overseen by the Octagon Theatre Redevelopment Project Board in collaboration with all partners and that we worked with partners to mitigate the economic impacts of the optimum closure in Yeovil.
Confirmed that we would work with partners to mitigate the current economic impact of the closure of the Octagon.
The Octagon Theatre Redevelopment Project Board in collaboration with all partners will work at speed to:
Work through the final stages of the procurement process to ensure we can provide robust costings in the options appraisal.
Look to secondary options to deliver a theatre we can continue to be proud of.
Source external funding to deliver the project.
The project team are working hard to ensure elected members have the information necessary to make decisions on the best course of action. Currently, there is no set timeline for delivery of this work however staff will be informed of likely outcomes and the appraisal options.
Read all about the basis of the proposal and the provisional plans below, if you would like to skip to a specific section, please click on the given section title below:
Contents:
- The Stage Is Set
- Improving The Theatre
- Benefits Of The Redevelopment
- The Auditorium Reimagined
- Discover New Worlds Of Entertainment
- Space To Create
- Be Our Guest
- A New Vision For Our Programme
- Unleashing Creativity Across Somerset
- Funding The Project
- Current Timeline
- Your Questions Answered
- Fundraising
- Contact Us
---
In 1974 The Octagon Theatre (then known as The Johnson Hall) opened its doors and has been entertaining audiences from Somerset and beyond ever since. Millions of people have been entertained in our theatre and each year we present a diverse range of artists and events, from big name comedians, classical music and opera to rock and folk music, the very best in variety as well as superb plays and ballets, and not forgetting our yearly blockbuster pantomime. In the last financial year (2019/20), 125,331 people purchased a ticket for an event at The Octagon Theatre whilst thousands more took part in one of our weekly classes as part of our Octagon Academy participatory programme. As we approach the 50th anniversary of the theatre in 2024, it is time to build on our success and plan for how the theatre can serve our future audiences and continue attracting the very best in performing arts and entertainment to Somerset.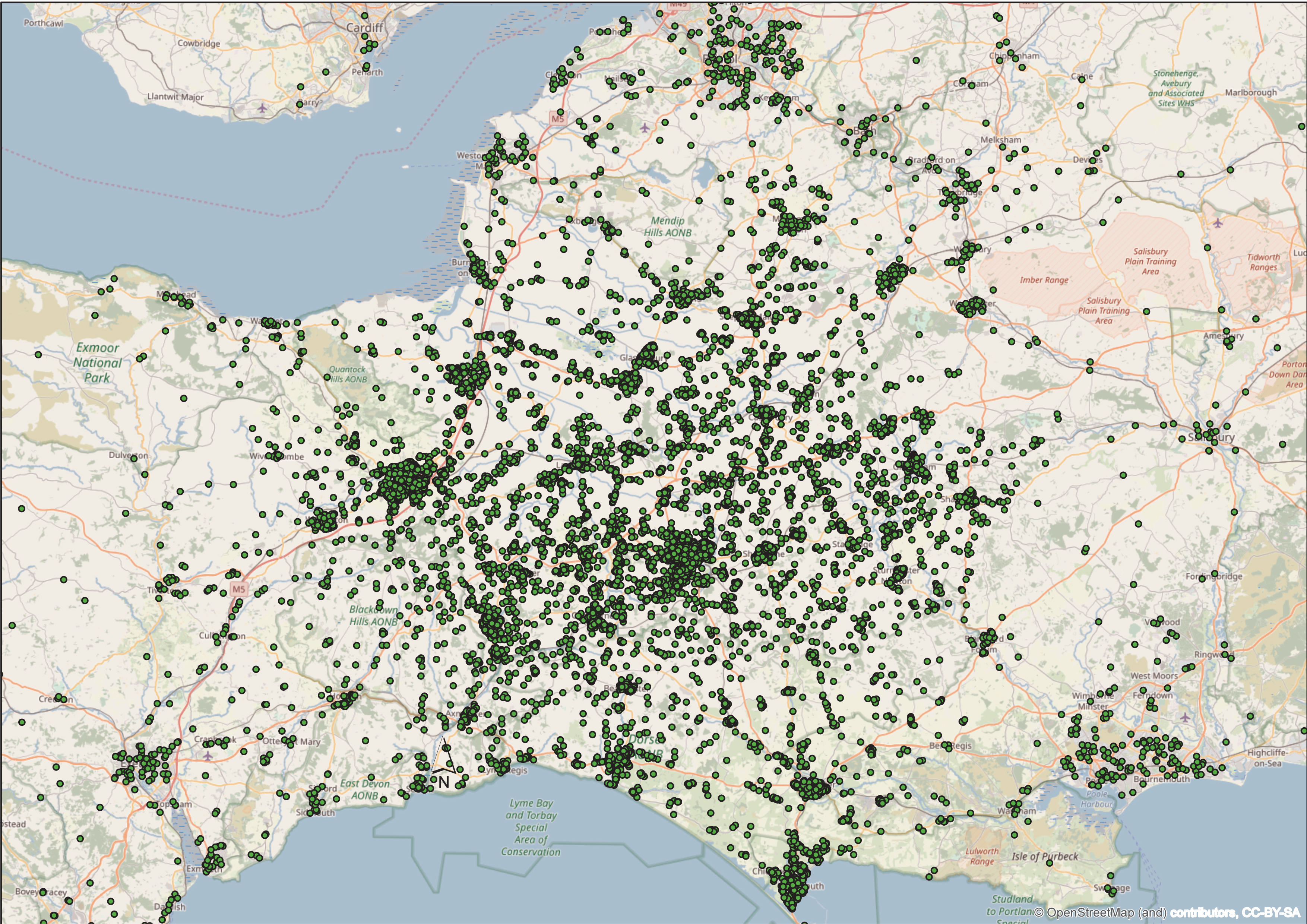 Image Above: Each dot represents a customer who made a booking for an event at The Octagon Theatre or Westlands Entertainment Venue that took place from 1st April 2019 - 15th March 2020.
The Octagon Theatre currently achieves an average of 83% capacity throughout the year with upwards of 250 performances staged annually. The theatre is popular with artists and producers, who appreciate the friendly welcome from our technicians along with our warm and responsive audiences. Over the last ten years, our audience numbers have increased dramatically (from 78,546 in 2009/10 to 125,331 in 2019/20) and, put simply, we have outgrown our current facilities and the record usage is taking its toll on the 50-year-old building.
Whilst the front of house areas were extended and seating refurbished in 2003, there is no disabled access backstage for visitors, staff, artists or those with mobility needs and we currently only have one accessible toilet situated front of house. The front of house areas have begun to look tired, dated and often feel cramped. The popular and profitable café bar is hampered by being wrapped around the auditorium with diners' meals interrupted by the arrival of audience members. The kitchen is small and inadequate for the size of the restaurant and the front of house areas lack air conditioning. The popular Octagon Academy classes take place in a small studio obstructed by a supporting pillar in the middle of the room, with no windows or air cooling and a lack of ceiling height for dance classes. The Octagon Theatre remains one of the most popular theatres in the South West with a loyal and enthusiastic audience, a passionate volunteer base in The Foyer Club and talented team who are devoted to the venue. Somerset deserves a better venue and The Octagon Theatre is well placed geographically to serve the South West with the organisation, under the management and support of Somerset Council, having the financial track record and robust plan to develop the theatre for the next 50 years and beyond.
The stage is set for the next chapter in the history of The Octagon Theatre; as we move forward to raise aspirations, provide residents with a flagship venue that will be the catalyst for a significant renaissance of the district, bring new artists and companies to Somerset and provide exciting new opportunities for residents to engage. The Octagon Theatre development is not only about the redevelopment of a building - it's also about reaching out into the community to improve access to the arts. In recent years the UK has seen an increase in the use of cultural initiatives to address socioeconomic problems, ranging from major capital projects to local participatory initiatives. The use of culture to refresh neighbourhoods, improve the physical environment, offering places to go and things to do, increasing local pride, and building stronger communities has been taking place for many years. Capital projects have shown that cultural buildings and facilities can contribute to the economic as well as the physical, social and cultural regeneration of an area, which in time will attract new and increased investment, creating jobs and opportunities for local people. Live performance has proven to be an incredibly effective way of educating, inspiring and encouraging people of all ages to aspire for a better tomorrow and the development of The Octagon Theatre demonstrates a firm commitment to this belief.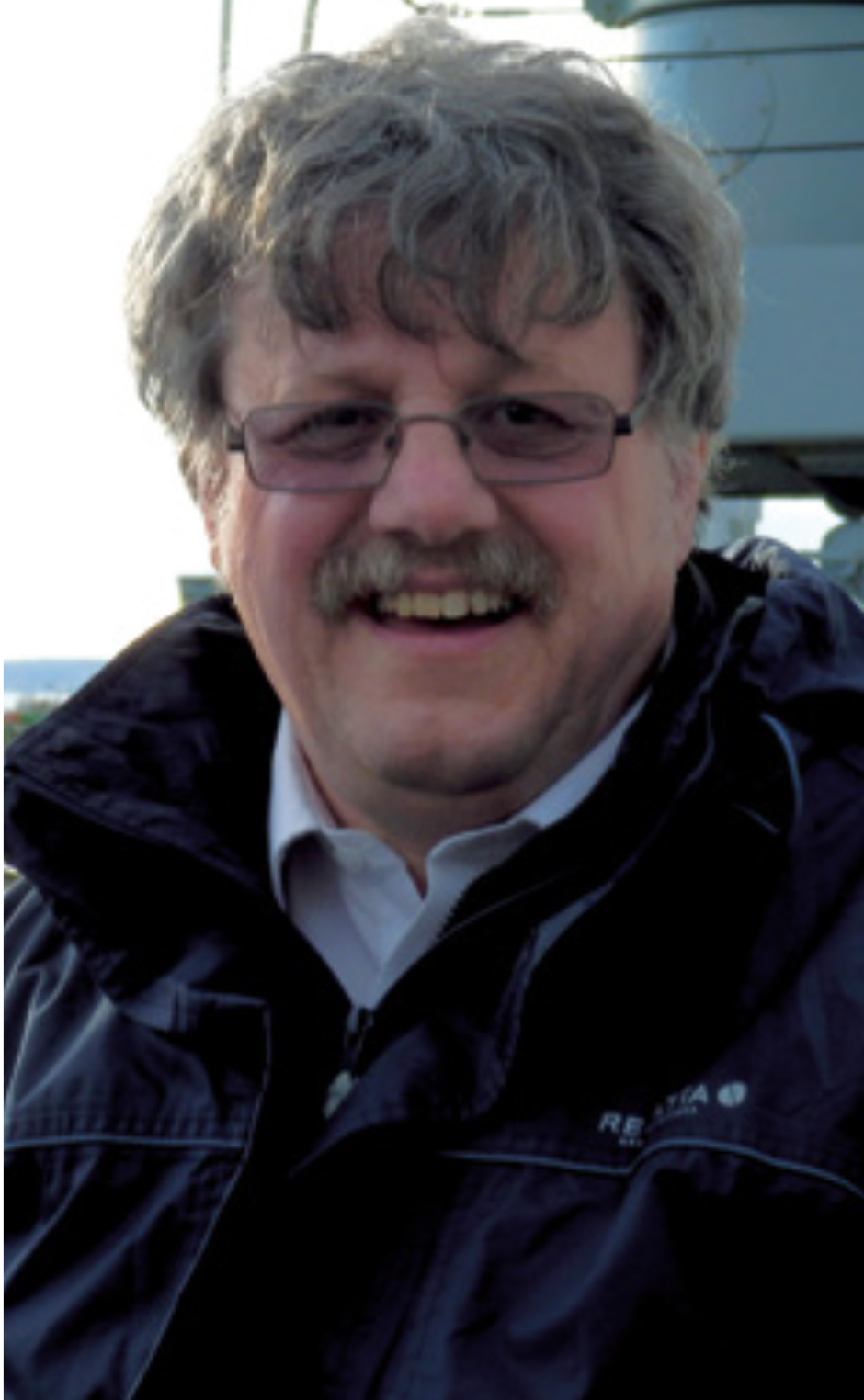 "The Octagon theatre redevelopment project isn't just a case of putting back what was already there, it's about creating opportunities for our residents and visitors from outside Somerset. The plans have evolved to create a flagship centre for the creative arts and will see The Octagon Theatre transformed into a centre of excellence. The redeveloped Octagon Theatre will allow more residents to access quality cultural activities which in turn will enable health communities which are cohesive, sustainable and enjoy a high quality of life; part of the councils key themes for delivery. As the new Unitary Council is established, and in line with the anticipated delivery of a new Cultural Strategy for Somerset, there will be opportunities to develop a more considered culture offer across Somerset.​​" - Cllr, Mike Best, Portfolio Holder Health and Well-Being
---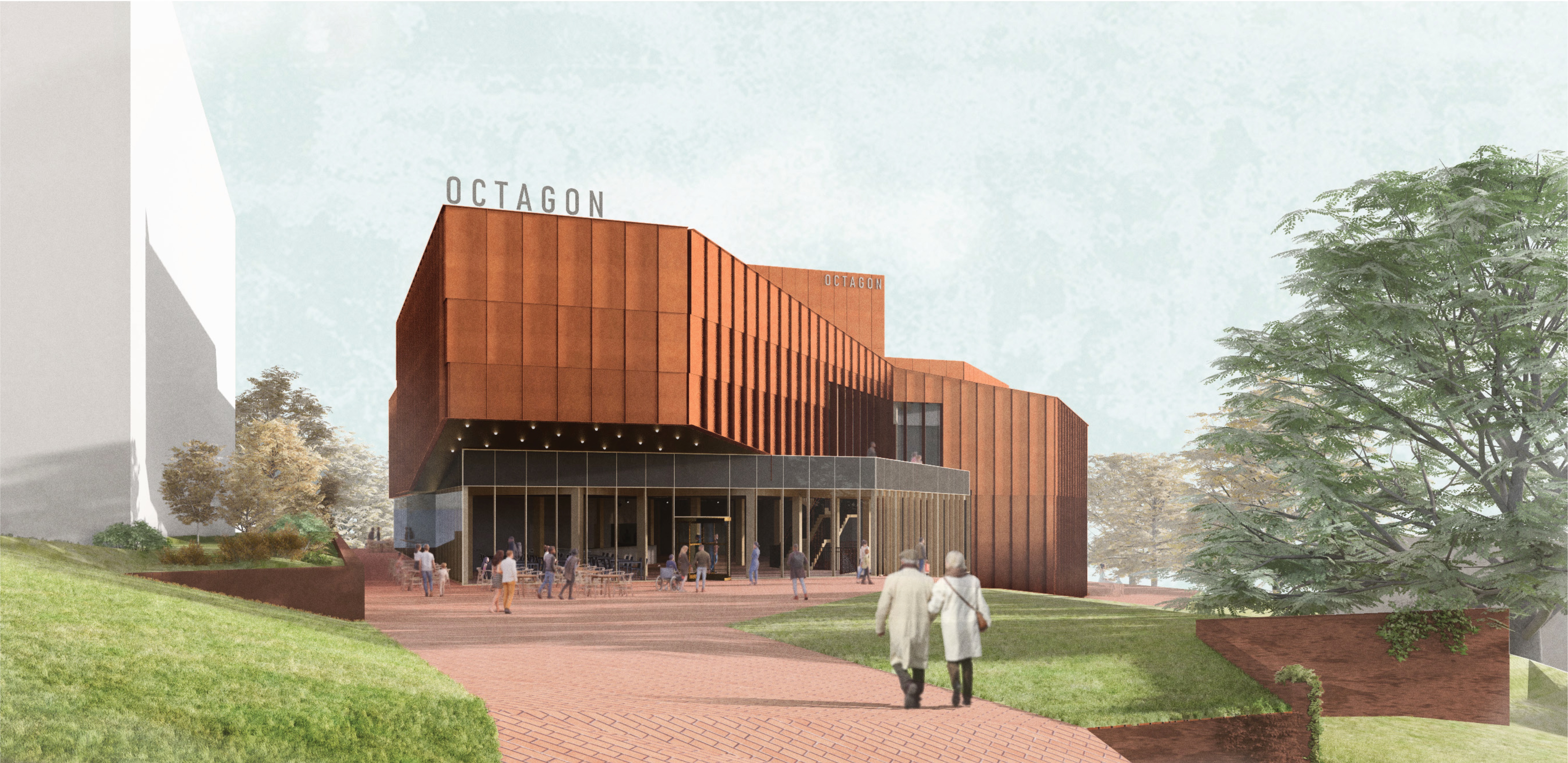 Image Above: An artists impression of The Octagon Theatre from the current car park area.
The proposed Octagon Theatre will include:
An increased seating capacity in the main auditorium from 622 to 900, with enhanced technical facilities that will improve the comfort for audiences.
Two new smaller cinema/studio spaces predominately for film screenings but also able to host smaller scale live performances.
A dance studio which will become the new home for our popular Octagon Academy and be the perfect place for all dance classes. It will be a rehearsal space where local dancers of all ages learn new skills, develop their talents and prepare for performances on stage.
A community studio offering an alternative space for additional classes. Rehearsals including our popular choir, theatre groups, and arts and craft workshops.
A greatly improved café bar area open throughout the day for the public and patrons to enjoy and relax.
Improved front of house and customer facilities
Improved backstage accessibility
The construction of a fly tower which can be used for flying scenery, enabling larger visiting companies to use our venue which would bring a new range of shows and entertainment to Yeovil.
A Changing Places Toilet for those with additional needs that we hope will make our venue, the town centre and Yeovil Country Park more accessible.
Over the last ten years, the audiences at The Octagon Theatre has dramatically increased and the footfall has taken its toll on the 50-year-old building. Much of the theatre isn't accessible which in this day-and-age isn't acceptable. The front of house area has begun to look tired, dated and often can feel cramped. The popular and profitable café bar is hampered by being wrapped around the auditorium with diners' meals interrupted by the arrival of audience members. The kitchen is small and inadequate for the size of the restaurant and the front of house areas lack air conditioning. The popular Octagon Academy classes take place in a small studio obstructed by a supporting pillar in the middle of the room, with no windows or air cooling and a lack of ceiling height for dance classes. It's not now cost-effective to just keep patching the theatre up and the investment in the new build will ensure the venue is compliant, safe and able maintain the audience levels. Significant improvements to accessibility, carbon consumption and the performance space are required.
---
Benefits Of The Redevelopment...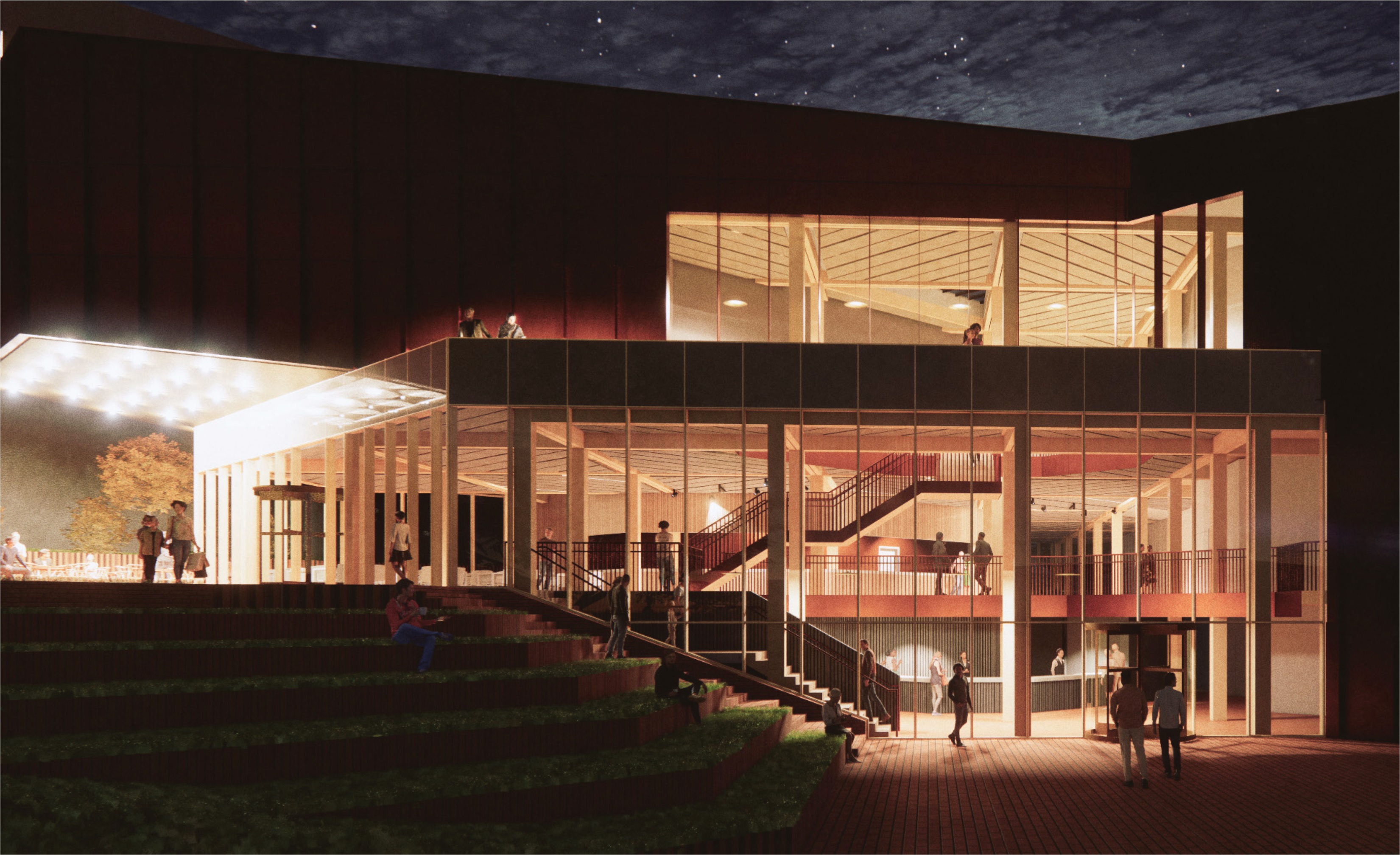 Image Above: An artists impression of outside the redeveloped Octagon Theatre at night.
Ultimately, the redevelopment of The Octagon Theatre will see the theatre transformed into a flagship venue for the arts and entertainment in Somerset. The plans have evolved to create a flagship centre for the creative arts that will provide amazing opportunities for our residents and bring world class arts to Somerset. The plans see The Octagon Theatre transformed into a centre of excellence.
The work will see a fly tower and circle added that will take the seating from 622 to 900 - this will mean big advances in productions that could attend the venue including touring plays and musicals. Increasing the seating capacity takes the theatre to the next level. Larger touring companies need to cover their costs, so increasing our seating increases the scope of companies to come to the theatre.
A larger theatre also will mean more jobs created so investing in our theatre is also investing in the local economy. Arts Council England sees the redevelopment of the Octagon as a symbol for the renewed commitment to the arts by local government in Somerset
---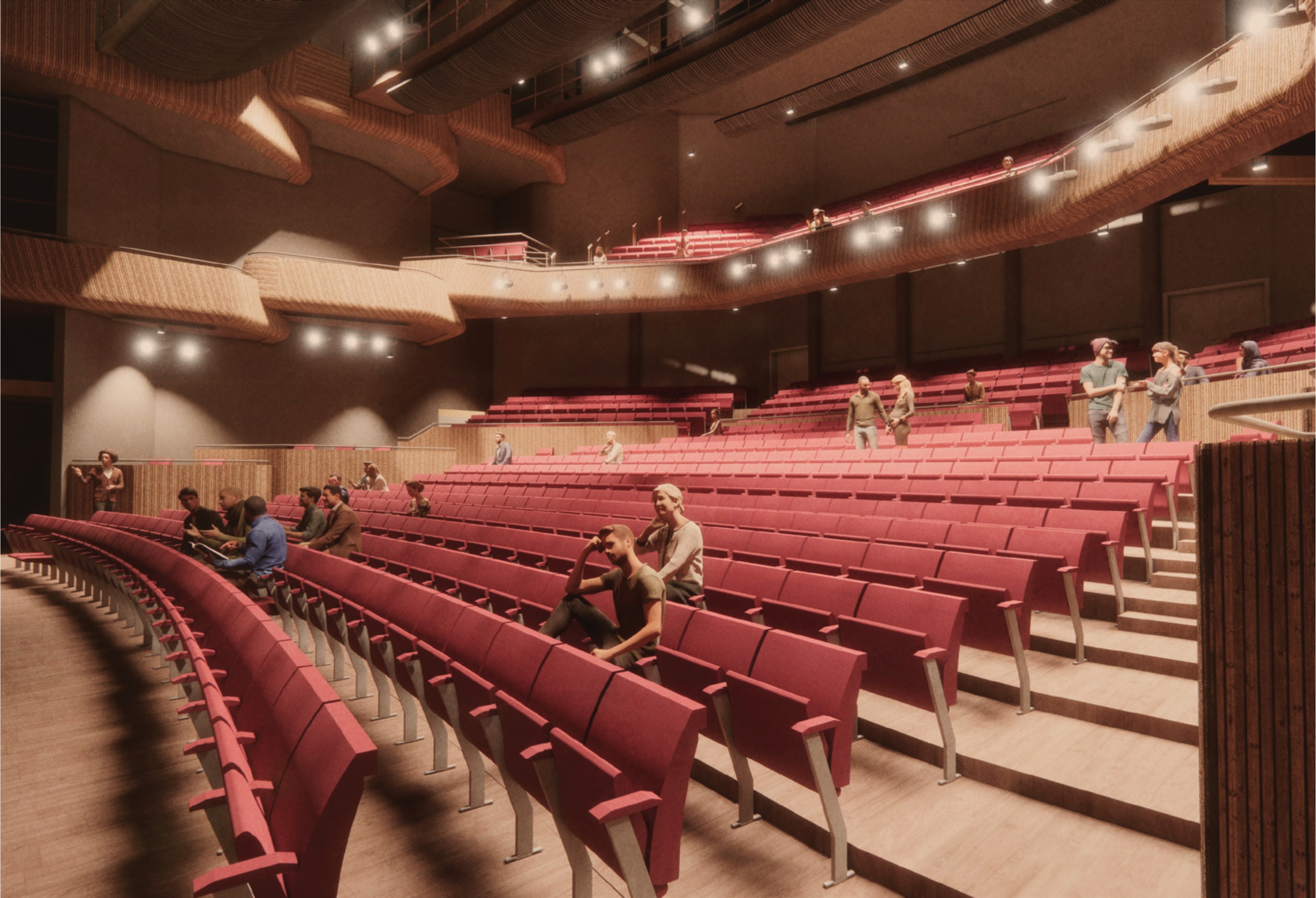 Image Above: Artist's impressions of the re-imagined auditorium layout.
The Octagon Theatre's auditorium currently has a capacity of 622 seats. At many times throughout the year we are sold-out and having to turn customers away, with over 100 shows having reached 90% or higher capacity in the last financial year. All dressing rooms are located underneath the stage with no level access to the stage, making it very difficult (if not impossible) to accommodate performers and crew with disabilities and mobility problems. The stage is currently lacking a fly tower (used for flying scenery and a requirement for most touring musicals, plays and pantomimes). The auditorium and stage has a metal roof and drainpipes in the walls which means that when experiencing heavy rain or hail it can be heard during a performance. There are no sound lobbies or sound proofing around the auditorium which means that during quiet shows and classical music concerts, audiences can hear doors closing or staff preparing for the interval. The sight lines are generally very good, with good leg room. Artists like the intimacy of the space but the current auditorium looks very tired and dated and the seats are in need of replacement.
The enhanced auditorium will retain the Octagon's best features, whilst the addition of a circle will increase the capacity to 900 seats whilst retaining excellent sight lines and similar leg room. A well-equipped stage, with a flexible Orchestra Pit and full flying facilities will be suitable for a wide range of arts and entertainment events. The additional capacity and facilities will open up a new range of companies and events to our programme, from larger orchestras, leading theatre companies and touring musicals to offering a much improved experience for existing popular shows and our thriving amateur and community companies. Improved acoustics and sound lobbies will give audiences, performers and stage crew a superb experience that is accessible both front of house and backstage to welcome everyone.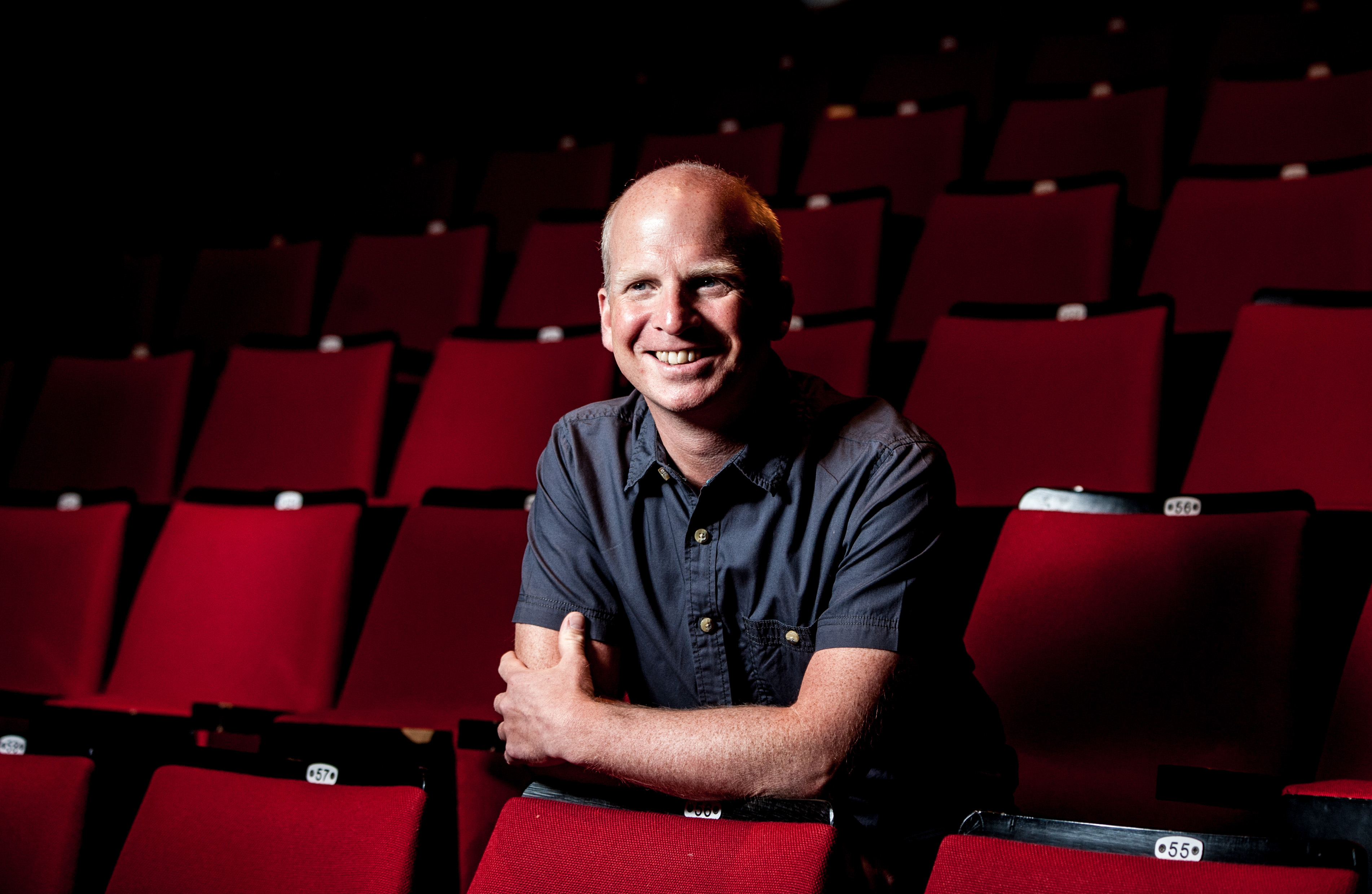 "I have worked at The Octagon since 1987 so it really is my second home. I have so many fantastic
memories of the shows we have presented here over the years and I am very excited to be part of the next chapter for the theatre. The plans for the theatre are amazing and would open up so many possibilities for what we can do." - Danny Norris, Technical Manager
---
Discover New Worlds Of Entertainment…
The Film Theatre 1 & 2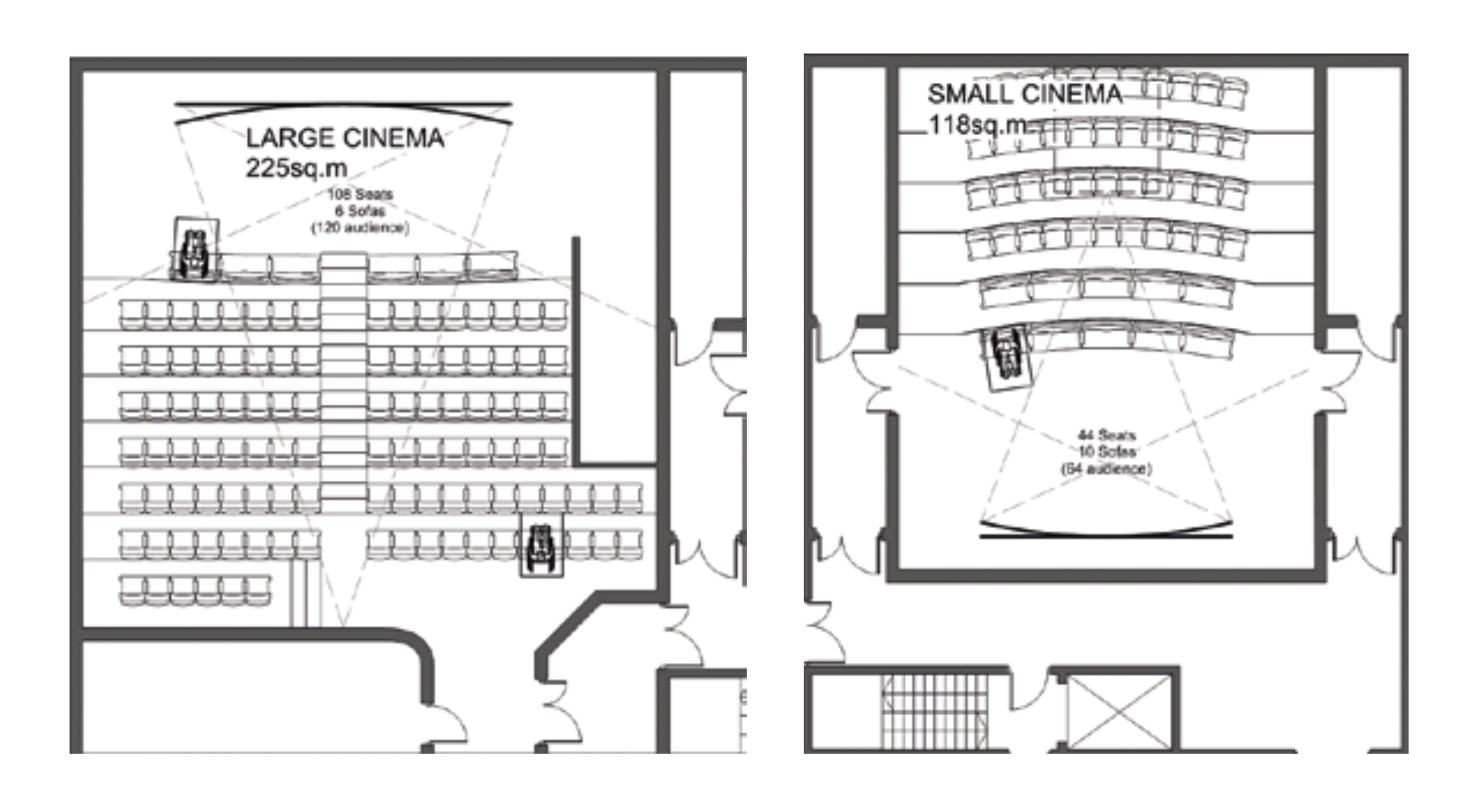 Images Above: Artist's impressions of the proposed cinema spaces.
The extension to the front of the building will see two additional theatres / cinema spaces. These spaces are designed to offer a new experience in Somerset that will predominantly screen films showcasing Live Events (National Theatre Live, Royal Opera House Live etc.) and the best of mainstream films alongside British, independent and foreign language films. While film festivals and special screenings will bring our communities together in new ways. The auditoriums will house luxury seating, superb sound systems and purpose built facilities that are fully accessible and offer an enhanced film experience. The larger space will also be suitable for comedy events and acoustic live music, with both spaces designed for lectures, conferences and spoken word events that will be perfect for Yeovil Literary Festival events. The smaller Film Theatre will be a luxury boutique cinema that is a 'destination cinema' with sofa seats offering an exceptional experience.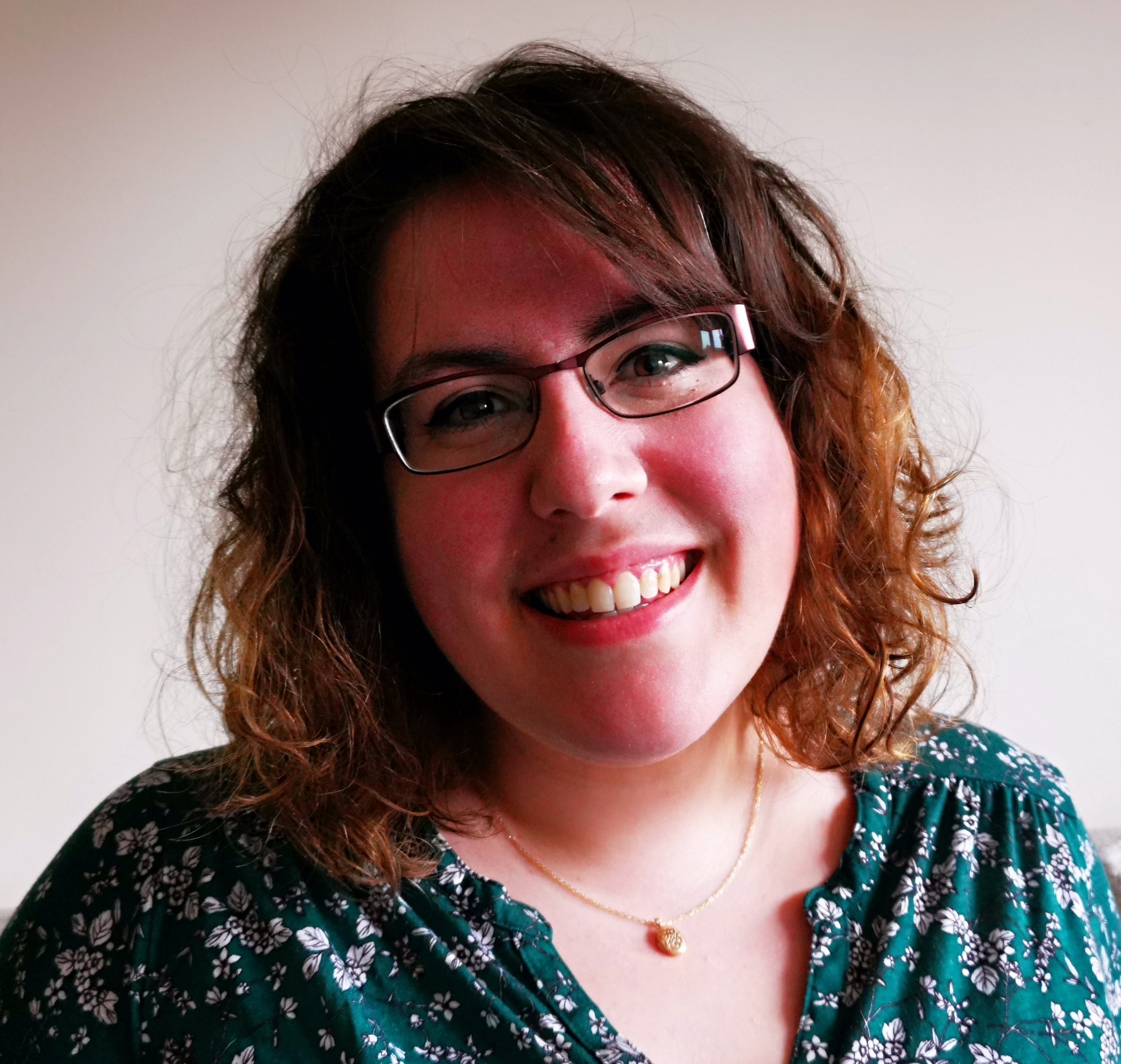 "Opening up The Octagon so that it is more welcoming and accessible to everyone is really important and will make a huge difference to our customers. We always want to offer the best service and experience possible and these new facilities really will help us in our efforts to be one of the leading theatres for the South West." - Charlotte Wood, Box Office Supervisor
---
The Dance Studio And Studio 2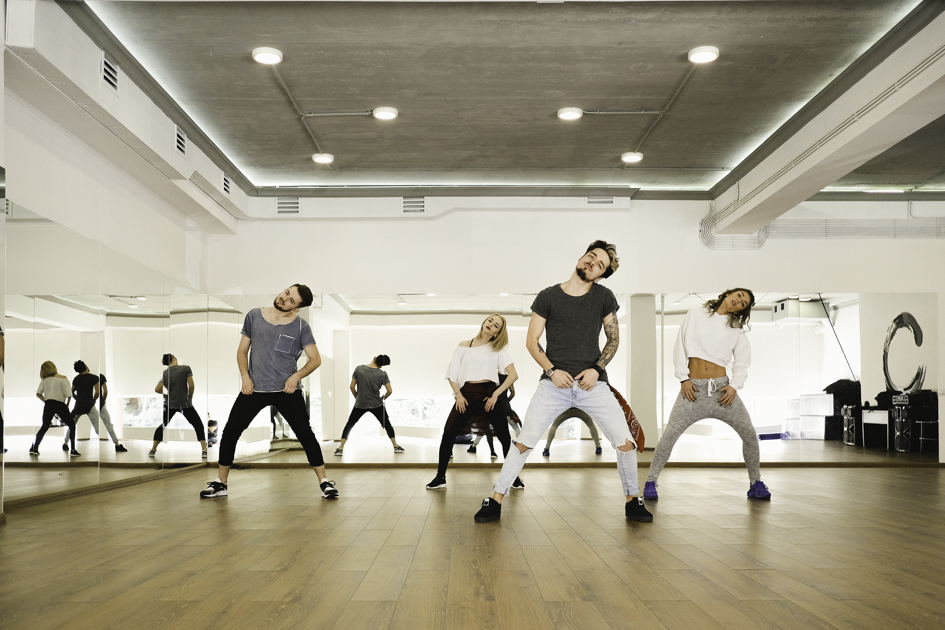 Our popular participatory programme 'The Octagon Academy' will have a new home with our two community studios. The Dance Studio is a large fully equipped dance studio with a sprung dance floor, mirrors, sound equipment and full ceiling height that will become a creative hub for dance in the region. Perfect for all dance classes and as a rehearsal space, our Dance Studio will be the place where local dancers of all ages learn new skills, develop their talents and prepare for performances on stage.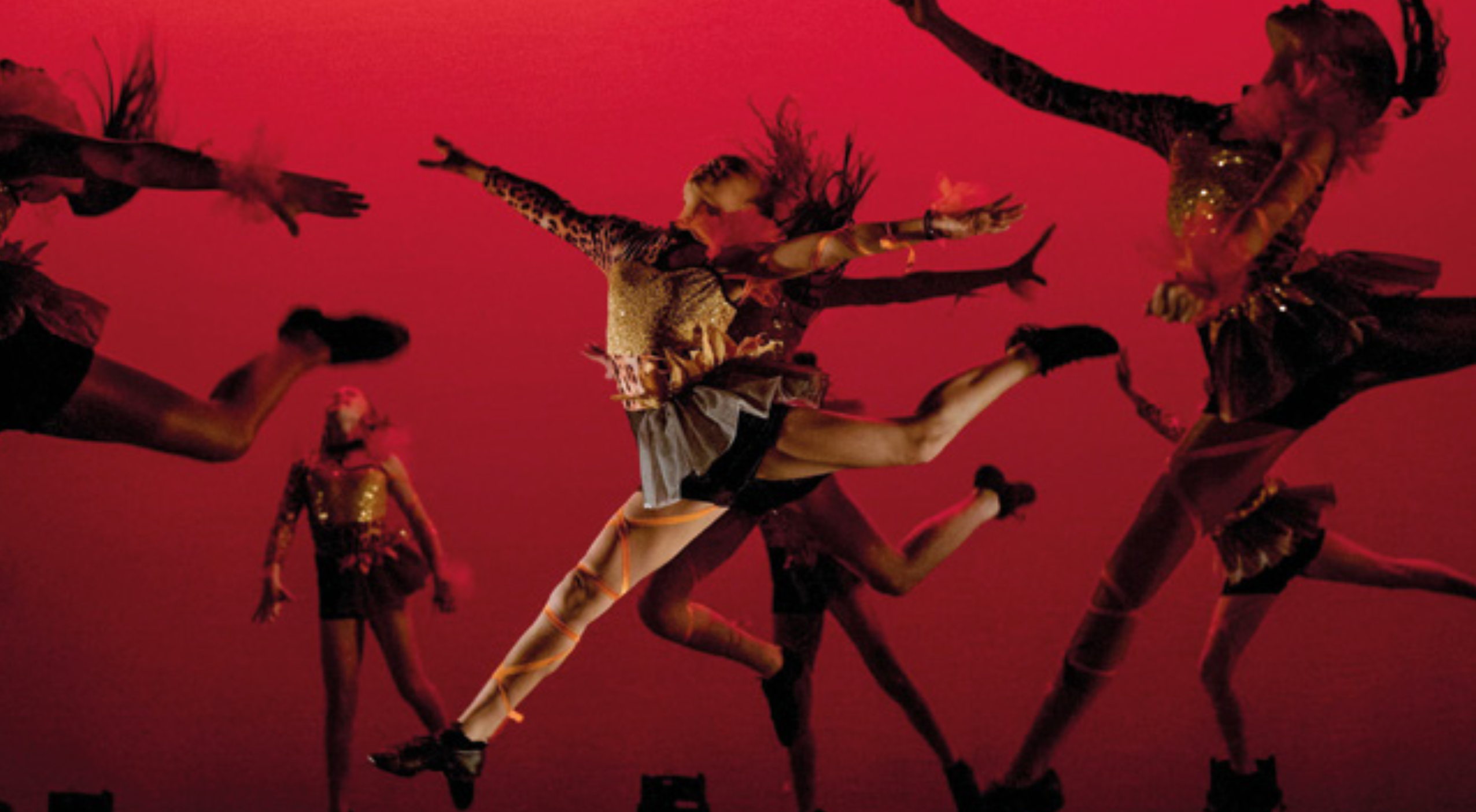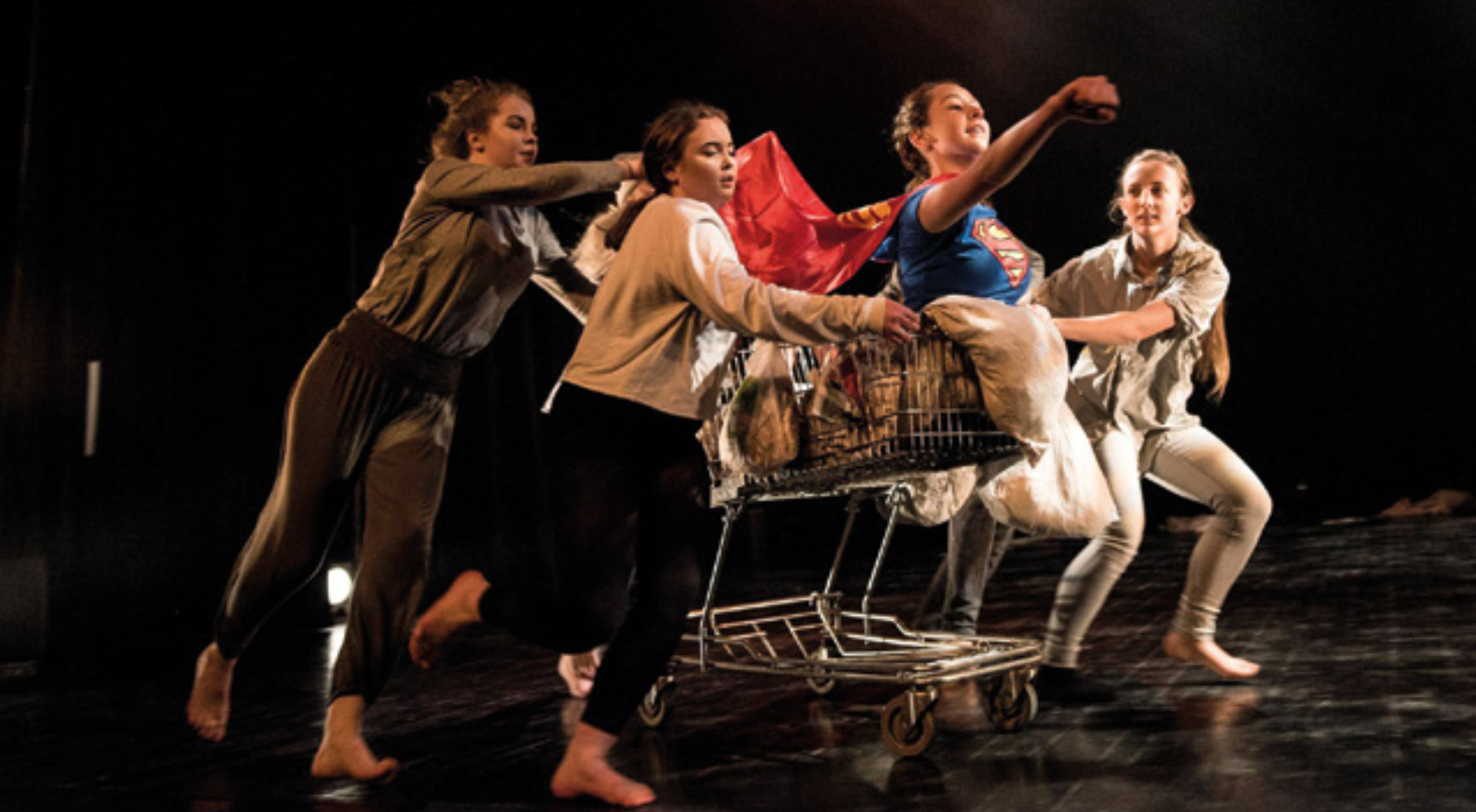 Studio 2 offers an alternative space for additional classes and rehearsals including our popular choir, theatre groups, writer's group and arts and craft workshops. Our participatory programme brings communities together in forging new friendships and improving the health and well-being of local residents. They are also key to our engagement programme where workshops can be delivered by the companies performing in the main auditorium.
---
Front Of House & Other Facilities
Front of house will offer attractive foyers for use throughout the day with excellent supporting bars and eating opportunities. Customers will enter on the first floor, level with Petters Way Car Park, with no need to use the sloped path or steps. An enhanced route to the Country Park will help guide visitors to Ninesprings, one of Yeovil's best loved areas and audiences on the night will have a well-lit route to Goldenstones car park as an alternative to Petters Way Car Park. The Front of House areas will have accessible toilets on every level and an adult changing facility (the first one in Yeovil Town Centre).
The venue will offer fabulous views of the town along with the country park and house two complimenting food areas. On the first floor, directly in front of the main entrance and at the 'heart' of the new venue will be our relaxed and cosy café bar. Open throughout the day for hot and cold food options, great coffee, and tempting cakes, this will be the perfect place to meet friends and family whether you are attending a performance, film screening, a class, making the most of the free Wi-Fi for a meeting or just finding a quiet corner to read your book. This hub will be a valuable income source for the venue and a destination in its own right. On the second floor you will find more formal dining, away from the bustle of the audience, in our restaurant. Treat yourself to a delicious meal before the show and return to your reserved table in the interval for dessert.
When developing our new venue at the forefront of our work will be a venue that is greener and more sustainable. At the heart of all our operations we will strive to be carbon neutral, utilising modern building approaches through the construction phase, and improving our day-to-day operations. Our new venue will be accessible to everyone, addressing and resolving the current access inadequacies and transforming the venue to offer a warm welcome to everyone with improved facilities for those with physical disabilities including visual and audio impairments. The venue will be a flagship arts venue for the south west where inspiration and creativity can be found every day. It will create a 'cultural quarter' for Yeovil with new opportunities for residents that will help raise aspirations, attract new businesses and investment to the area, drive new job creation and re-build the local economy following the negative effects of the COVID-19 pandemic. The development will give the opportunity to architecturally mark the gateway to Yeovil Country Park and create a more attractive building that is sympathetic to the surrounding area.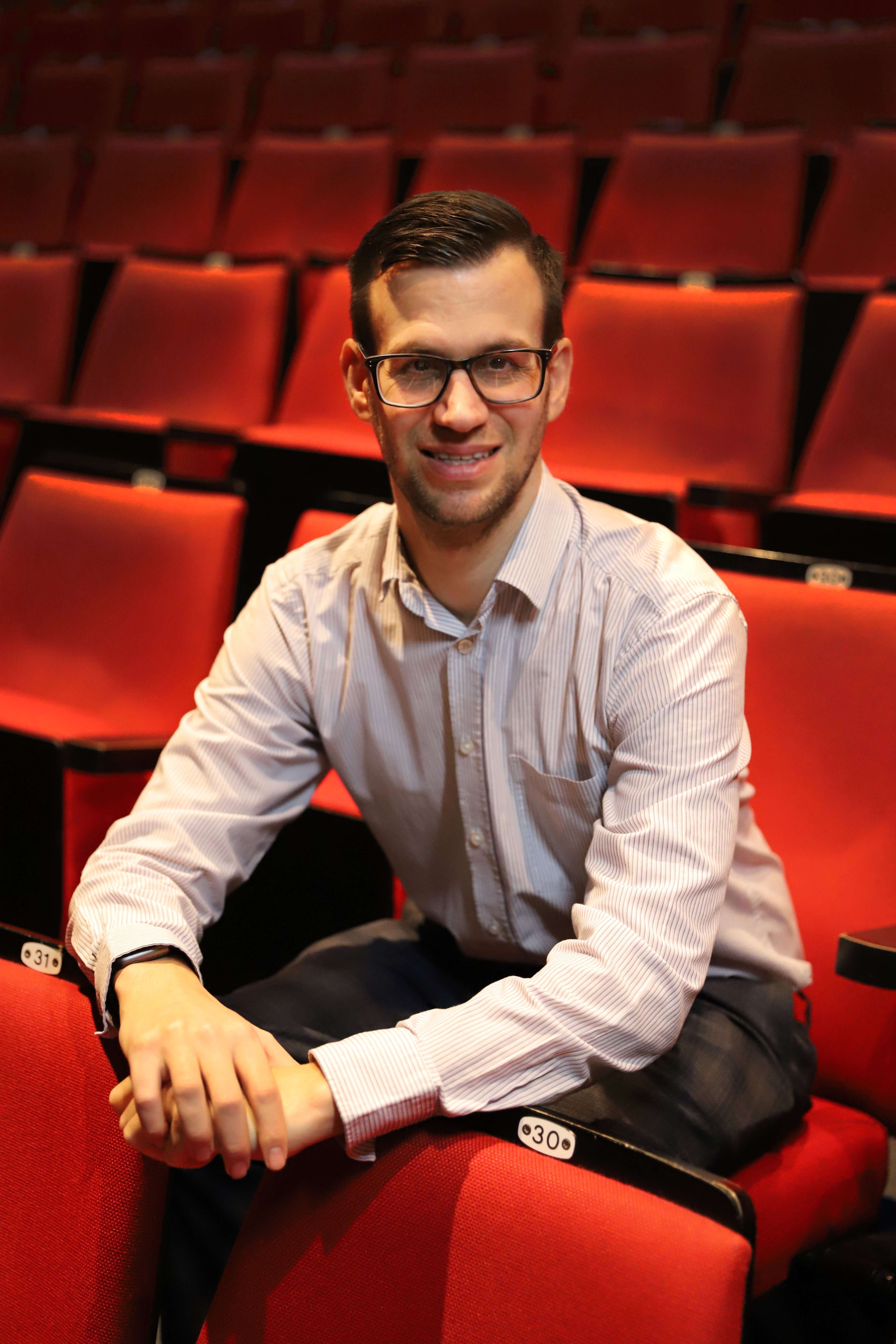 "Creating a 'greener' theatre for the future will ensure we are ready for the next 50 years of entertaining Yeovil and the surrounding areas. Securing the future for The Octagon Theatre will make sure we can be here for years to come." - Martin Hacker, Marketing Manager
---
A New Vision For Our Programme…
Our aim with the programme in our auditorium is to offer 'something for everyone' with an exciting and diverse programme of cutting edge and leading arts companies, the very best entertainment and a celebration of local talent. The developed auditorium will allow us to 'step up' our programming and enhance popular favourites.

Images Above (left to right): Snow White And The Seven Dwarfs,
Buddy - The Buddy Holly Story & Craig Revel Horwood

LIVE MUSIC
We will continue our popular programme of live music and the larger capacity will allow us to attract some bigger names on the touring circuit and establish Yeovil as a 'destination venue'. Tribute and musical shows will continue to be a popular part of our programme and we will offer the very best.
CLASSICAL MUSIC & OPERA
Our Classical Concert Series will benefit from attracting larger ensembles and headline artists. Prestigious orchestras will perform regularly with education and community work building new audiences and in particular introducing children and young people to experience a leading orchestra live. A vibrant classical programme including choral work will delight audiences.
COMEDY
We will continue to attract the biggest names in comedy while our larger capacity will see us move to the 'main tour' in some cases and will allow us to sell more tickets for these hugely popular events.
THEATRE/MUSICALS
We will attract some of the UK's leading theatre companies including top quality touring plays. Our fly tower and increased capacity will attract touring musicals that will draw audiences from across the South West and bring the 'West End' to Somerset.
DANCE
We will stage superb ballet and continue our relationship and commitment to contemporary companies with an exciting education and community programme to support the performance and offer exceptional opportunities throughout the region.
FAMILY SHOWS AND PANTOMIME
Our stage will continue to bring children's favourite characters to life and our pantomime will soar to new heights as the increased capacity and improved flying facilities will enhance our record-breaking pantomime even further.
COMMUNITY AND AMATEUR SHOWS
Our theatre will continue to be a home for our thriving amateur societies. The improved facilities will support their productions and ambitions while remaining an affordable space. The venue will celebrate and nurture local talent proving to be a spring board for gifted and talented performers and a place where anyone can learn new skills, gain confidence through performance and make new friends.
SPOKEN WORD AND YEOVIL LITERARY FESTIVAL
Our larger auditorium and two spaces will create a premier venue for our thriving Literary Festival to grow and establish itself as one of the best in the country.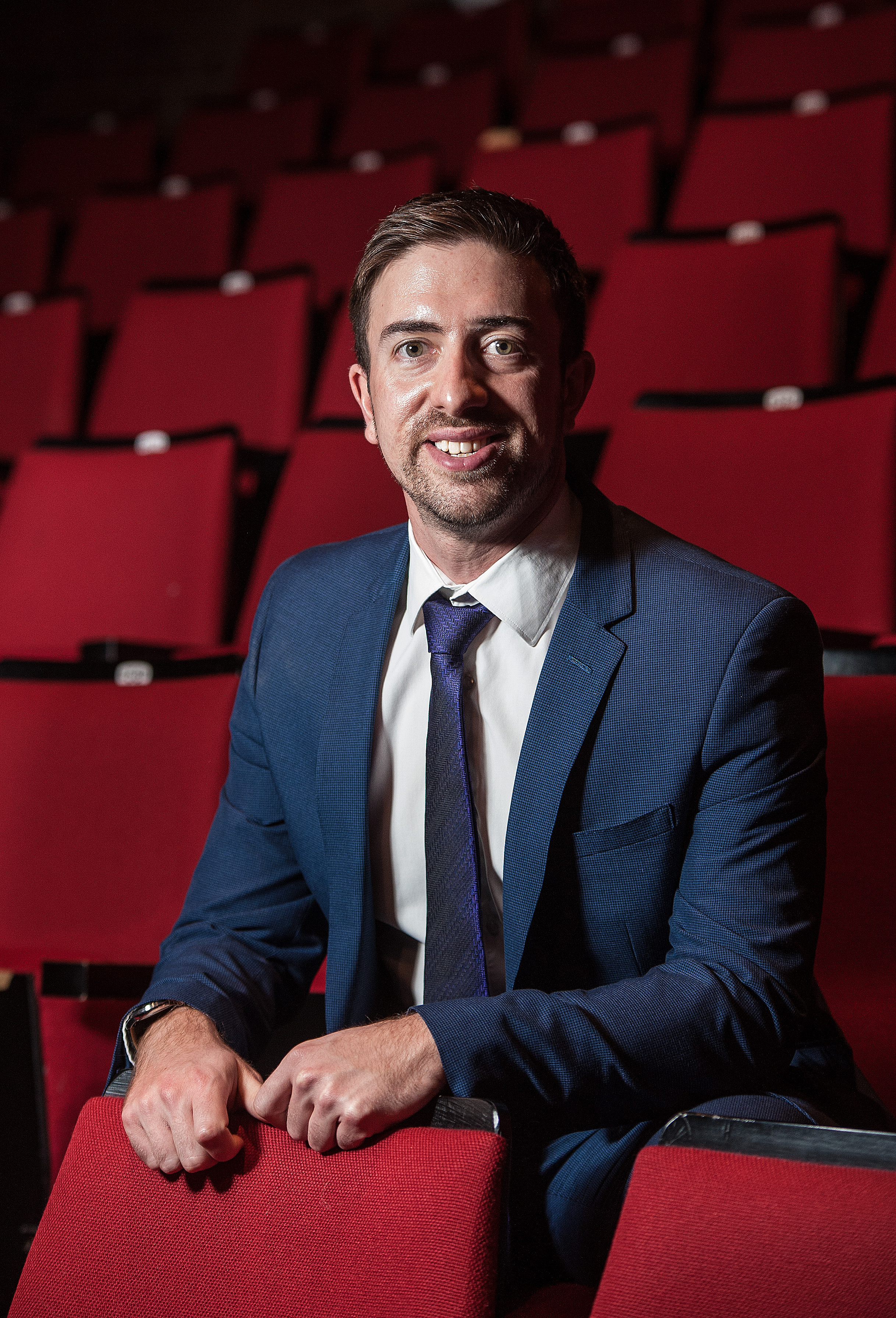 "There is nothing we love better than experiencing the excitement, applause and happiness that live theatre and entertainment can bring. This new development will bring many exciting new shows and artists to Somerset and ensure that our local audiences will not have to travel far to enjoy them.​"
Adam Burgan, Arts & Entertainment Venues Manager
---
Unleashing Creativity Across Somerset…
Arts Engagement & Outreach Programme
Somerset Council has been a committed champion and supporter of the arts. The Council recognises the ability of the arts to transform lives, raise aspirations, improve education and help lift people out of poverty. When it comes to making Somerset a better place to live, work and visit we recognise the arts have a vital role to play in achieving an improved standard of well-being. We are passionate about working with and for our community and are committed to finding innovative ways to encourage participation in the arts.

The development of The Octagon Theatre will transform our existing Arts Development Department with a new vision and investment that in hand with our new venue will unleash creativity in Somerset. Our new Engagement and Outreach programme will run across the whole of the South Somerset, we will continue our work to build and develop a diverse and extensive range of projects, activities and events designed to broaden the experience and enjoyment of the creative arts.

The Octagon Theatre will become a creative hub and a living resource for the region, contributing to, and enriching the lives of everyone in Somerset while delivering new and exciting opportunities. In addition to opportunities to engage audiences at The Octagon Theatre, our Engagement & Outreach Service will deliver activities and support throughout our district. We currently provide core funding to four arts organisations who work across the theatre – Take Art, Somerset Art Works, Actiontrack and Somerset Film. We also support local arts organisations, art projects, festivals and artists in Somerset. The income generated by the redeveloped Octagon Theatre will be invested back into our communities across Somerset, taking an innovative approach to tackling the issues facing our communities. These initiatives will be tailored to the local area and will be developed with our residents in mind.
Initial projects being developed are:​

• Arts On Prescription – We know that before the pandemic the NHS has been struggling with an increase in mental health issues and while conventional medicine and treatment is vitally important the arts have a significant impact on people leading happy and healthy lives. We will work with NHS trusts to offer patients access to performances and regular activity that will support their treatment, recovery and long-term well-being.

• Active Communities – Our Octagon Academy classes are hugely popular and we want to share access to them across our rural district. Through the development of our engagement and outreach programme we will aim to support the work of pre-existing choirs, dance and theatre groups operating throughout Somerset, while providing opportunities in the community by pioneering activity in areas lacking classes or local engagement.

• Children & Young People's Programme – Urban arts, streetdance, music creation and DJ skill development. We will provide a programme that develops skills, improves confidence and inspires achievement.

• Arts and Dementia – For older residents there are huge benefits in improving physical mobility through dance and cognitive ability through dance and music. Music can transport people through memory association and lift moods. Whilst participants would benefit from our activities they could also provide vital respite for principal carers.

Our Engagement and Outreach programme will be funded by The Octagon Theatre and will attract national funding. It will deliver an exciting range of projects that will build stronger, healthier and happier communities.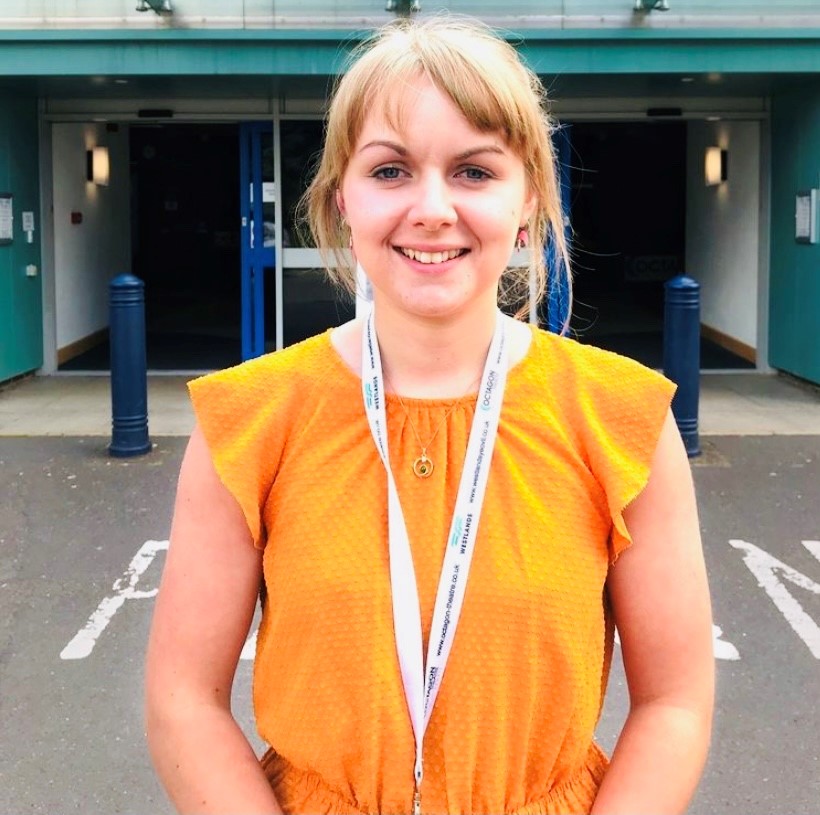 "Our programme of activity will transform peoples lives, bringing people together and positively benefiting our community. We will continue our work to provide equality of access and present a diverse programme that unlocks creativity in all of us." - Katherine Hoskins, Arts Engagement & Outreach Manager
---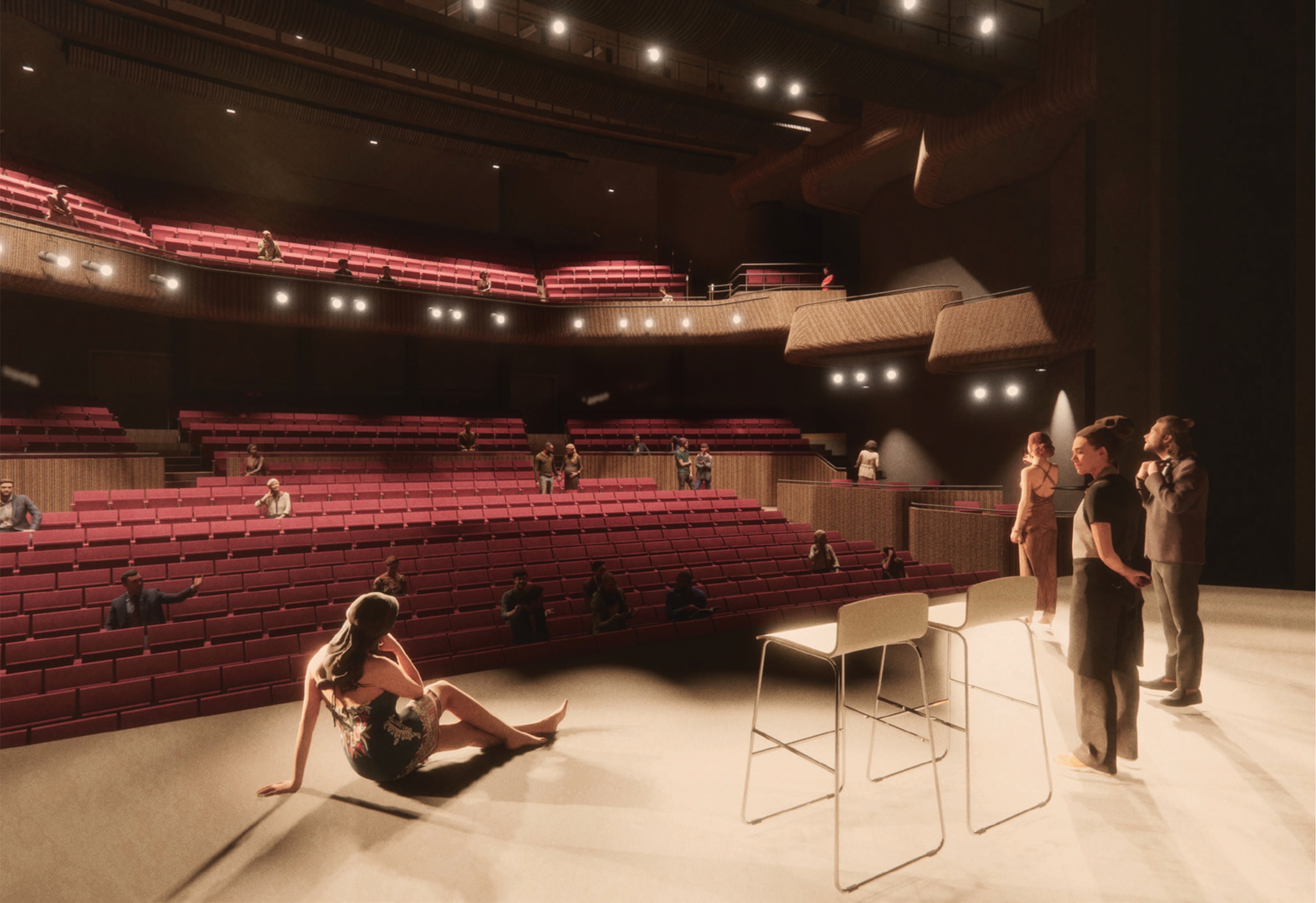 Image above: An artists impression of the auditorium from the stage.
A large capital development like this is a monumental undertaking and there are of course risks involved that will be carefully managed. As part of Somerset Council there are robust business and development plans in place. The council has an excellent track-record of delivering large scale building projects for the community. The project could now potentially cost £29.01m which is an increase of £6m from the previously agreed budget.
Whist the project is being paid for by Somerset Council, £10m of the cost is being funded through a grant via the Department of Culture, Media and Sport – leaving £19.01m of additional funding to be sought. This funding will be generated through loaning the money from the council itself. This means income made from the venue will be paid back, at no additional cost to the taxpayer. Other funding streams will be through fundraising events, whilst other options explored from trusts and foundations that will bring national funding to support the project.
Whilst the economic basis for development is compelling, this project is not just about money, it is about improving the health and well-being of everyone living within our district and beyond. Attending concerts and performances along with taking part in classes and workshops brings joy, whilst additionally offering the opportunity for expression of feelings and an improvement in confidence and self-esteem. Try to imagine a world without music, dance, theatre, art and film - it would be a pretty bleak place! We passionately believe that everyone should have access to the arts and that they have the ability to transform people's lives. The Octagon Theatre and its team have always been focussed on spreading joy and happiness; a larger operation will equip us to be able to do more and reach more people within the community. This would be an investment in everyone's health and well-being and is therefore one of the most vital investments we can make.
---
The planning application for this exciting redevelopment has been approved by the Local Planning Authority and we are now seeking a building contractor through a competitive tender process.
The building shut to performers and the public at the end of April 2023, with more invasive work and inspections carried out over the summer and the clearing out of the building taking place.
The design process has been led by experienced theatre architects, Fielden, Clegg, Bradley associates and we have shared Stage 2 RIBA designs with the public in early 2022. A planning application was submitted to the local Planning Authority for consideration in late 2022, with a decision on this expected early 2023.
The Octagon Theatre will always be a local theatre. The new redeveloped theatre will be no exception to this and in fact give more local talent an opportunity to develop with the enhanced dance studio and community studio space.
The venue is a very well loved and used space but it could be so much more to our communities and visitors. Whilst the project will make the theatre a beacon for arts and entertainment in Somerset, it will have a significant impact on the local economy and will be sure to be the home of current and emerging new talent in the area.
---
Will you be creating additional parking for the additional footfall/capacity increase?
The Octagon Theatre is fortunate to be located next to one of the largest car parks in Yeovil Town Centre (Petters Way) and we know many of our customers will visit the theatre by car. There are currently times through the year (particularly over Christmas or community shows with larger casts) where Petters Way car park will be full and customers need to use alternative car parks like Goldenstones, West Hendford or Stars Lane.
Within a five-minute walk of the theatre (400m), there are a total of 725 public parking spaces and within a ten-minute walk (800m), there are 1,358 spaces. Our priority is for disabled parking within close proximity to the theatre, so there will be an increase in the number of disabled parking bays in Petters Way with level access to the theatre. There will also be disabled parking bays adjacent to the theatre that can be booked with priority for disabled customers (a popular service that is currently in place).
We will ensure our communications clearly advise customers of the different car parks that are close to the theatre so to make their visit as enjoyable and stress free as possible. We will also be working to encourage customers to use public transport or more sustainable methods of transport with charging for electric vehicles.
Why not spend the money on the NHS or Schools?
This is a question asked a lot when a large public sector project is put forward. We are all passionate about the NHS, schools, adult social care and other public services, who all do so much and would benefit from additional funding. This project is being developed by Somerset Council. The NHS is funded directly from government whilst the responsibility for schools, young people's services and adult social care in Somerset lies with Somerset County Council at present, who fund these services from the grants they are given by the government.
The proposed evolution of The Octagon Theatre will be directly beneficial to the running of each of the given organisations. Outreach and engagement within our community will be at the core of our operation; supporting many of the most vulnerable within our district. Through supporting those facing mental health issues with an arts focussed engagement programme we can reduce the number of people needing to access mental health support via the NHS.
Working to build confidence in young people that have, or are facing adversity by facilitating the expression of feelings and development of positive skills through music, theatre and dance, we will be directly supporting the Young People's Service. Our programme with schools will aim to bring education to life across the curriculum, with content and classes designed to engage and inspire students through the arts, as well as promoting the health and wellbeing benefits of being active. Our local gifted and talented students will be given the chance to shine through additional development opportunities. Engagement with the arts as a positive outlet for expression will be encouraged throughout Somerset.
Older residents will be given the opportunity to thrive through community activities that promote psychical and mental fitness, while providing an outlet for building new friendships and support networks that will help to tackle the risk of isolation. Programmes aimed at supporting those with dementia will support adult social care providers in the area.
The arts have proved time and time again to be an innovative and highly successful means for addressing many of the issues we face in our society and this development presents us with the opportunity to make a real difference that will benefit generations to come.
Is now the right time?
Well, if not now, when? This project was conceived and work began prior to the COVID-19 pandemic that has affected everyone. One of the most impacted industries has been theatres, cinemas and venues that bring people together. We also know there will be economic consequences and the effects of the pandemic will be felt for many years to come. Whilst it is important to be prudent it is also important to have hope and optimism for the future. Storytelling is an essential part of being human, we have been doing it since the time of cavemen, when they would gather around the fire to tell stories, sing songs and dance to celebrate. If we think back to our favourite performances, films we have shared, and the experience of live music at a concert, it is clear that live entertainment has always played an integral role in shaping who we are.

We know our audiences are keen to return when it is safe to do so and the uncertainty we currently all face is temporary. When it is over we will need music, theatre and arts to bring us all back together. Those places that bring friends and families together to feel joy will be more important than ever and we will appreciate them even more. During times of economic downturn and instability, theatre, arts and cinema tend to perform very well and often show an increase in attendance. This was the case in the financial crisis when our audience continued to grow. It is understood that this is because people will spend their money on things that 'cheer them up' and experiences that families and friends can do together, a trip to the pantomime for Christmas, or a concert to escape becomes an affordable treat. The existing Octagon Theatre will still need refurbishment if this project is not taken forward, but these plans offer so much more and promise of a brighter and more exciting tomorrow.
What about Westlands Entertainment Venue?
We are very fortunate in Yeovil to have two great entertainment venues. The team who manage The Octagon Theatre took on the management of Westlands Entertainment Venue following its refurbishment in 2016. Westlands is home to a beautiful ballroom which is a flexible space that can be used for banqueting, parties, conferencing, trade fairs, standing gigs and live performances (seating 870). The venue has meeting and function rooms which are used for both smaller regular events and larger scale events, like Yeovil Beer Festival. Having a joint management team means that the programme and activities complement each other.

During the construction phase that would close The Octagon Theatre we are lucky that we will be able to move many shows and activities to Westlands Entertainment Venue, allowing us to retain our audiences and continue providing excellent entertainment in Somerset. Westlands is a superb multi-purpose venue but it will never be a theatre, as the venue lacks the stage size and backstage facilities to present large, technically challenging shows. The redevelopment will see both venues play to their strengths and the film programme at Westlands relocated to purpose built, comfortable and luxurious cinemas at The Octagon Theatre. We believe with both venues we can diversify our programme and offer an exceptional programme of performances, events and activities that will make Yeovil the destination for culture and entertainment.
---
Fundraising has also been a key way of helping to fund the Octagon redevelopment and we continue to do all we can raise funds. Castaway Theatre Group joined some of our staff for a sponsored 24- hour sleepover at the venue with half the proceeds going to the group and the other half going towards the redevelopment. We also welcomed comedian/ventriloquist Paul Zerdin for a performance, with all ticket proceeds being donated to our Name A Seat campaign. Paul is a patron of our Name A Seat initiative and all money from the campaign is going towards the development of the theatre.
Staff have also played a role in fundraising. For example, our Marketing Manager, Martin, set himself eigh challenges in 2022 including half marathons, full marathons, ultra runs, virtual swimming challenges plus much more. All fundraising proceeds from these challenges go direct to The Foyer Club Charity who are collecting funds for the development.
You can get involved now with our 'Name A Seat' campaign whereby from £150, you can have a personalised plaque on a seat within our new auditorium. Contributing now means that you will be placed on our priority list and contacted to choose a seat for your plaque once the seating plan has been designed. Visit Name A Seat page on the website for more information.
---
We invite you to be part of the conversation and thank you for taking the time to read this information. We hope you found it interesting, exciting and helpful. You can contact us in the following ways:
Email us: octagontheatre@somerset.gov.uk
Write to us: The Octagon Theatre, Hendford, Yeovil, Somerset BA20 1UX
Engage with us via social media: Facebook, Instagram, Twitter, Youtube