posted 22 May 2023
The legendary set play format returns to the World Seniors Darts Tour Calendar in 2023 on 24 and 25 of June at Westlands Entertainment Venue with the audience guarenteed a full weekend of dart action.
Sixteen players will take to the Westlands stage in the event that was won by Canadian David Cameron in its inaugural hosting. Reigning World Seniors Darts World Champion Robert Thornton will be looking to add to his trophy collection. The Scotsman also lifted the World Seniors Matchplay title in 2022 but missed out in the World Seniors Masters.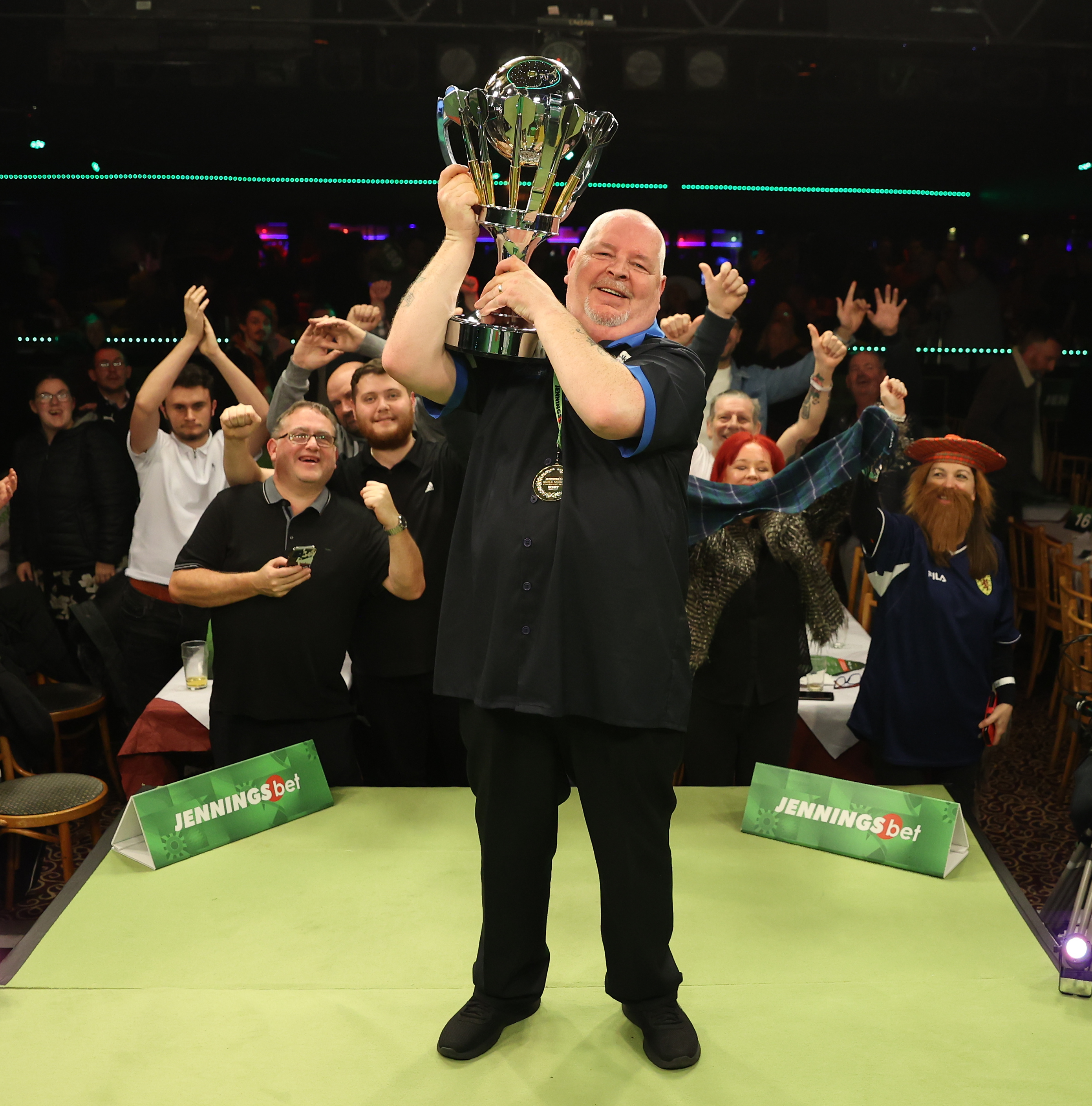 Martin 'Wolfie' Adams, Trina Gulliver, Bob Anderson, John Part, Kevin Painter, Mark Dudbridge and Chris Mason have all accepted invitations to play.
We caught up with Robert Thornton ahead of his visit to Westland Entertainment Venue:
How did you get into darts?
"Darts was massive as I was growing up. Watching people like Jockey Wilson on TV made me want to be just like him so I played all the time until I had children. Then I had to take a bit of a break, but I finally took darts seriously in 2002 when I joined the BDO. I've been a professional player ever since really."
How often do you practice?
"I try to do a couple of hours a day, but it tends to vary now I'm a bit older. I know some of the younger guys still on the PDC tour that will do five or more hours a day, every day. For me now it's just about keeping myself at my current level and ensuring I go into competitions in the best shape possible. It's just as easy to over-do and as it is to under prepare, so I have to be aware of that."
How much travelling do they do for the sport?
"When I was playing in the PDC the answer would have been an awful lot. The calendar is so busy these days, you can be away for 45 weekends of the year easily. That's one of the things I'm loving about the World Seniors Tour. It's not as full on. It's perfect for us older guys who now have to rest a little more and can spend time with our families now that we've done the hard slog of our careers."
What's your best leg?
"I hit a 9-darter at the World Grand Prix against James Wade in 2014. It's special to do it in that event as you have to hit a double to start the leg and finish. James had already hit one against me in the match so to get one back against him felt really good."
Most Memorable Match?
"I've got a couple for this one. The match where I hit the 9-darter I mentioned will always stand out as memorable. Winning the Final of the UK Open or the World Grand Prix are huge too. But defending the World Seniors World Championship a few months ago was brilliant for me. My family drove down over night to surprise ahead of the final, and being able to have my grandchildren on stage at the end will be something that stays with me for a long time."
How do you sum up the World Seniors Darts Tour so far?
"Obviously, it's been brilliant. I'm fortunate enough to have won three TV titles already, including back to back World Championships. The balance of the tour is great, and all the players have really embraced the concept since its start in 2021. You can't beat the feeling of winning, whether it's a game down the local with friends or a TV tournament, I still get a massive buzz from it, and the World Seniors Darts Tour has allowed me to keep that going. The fans have all been amazing too. It feels like I'm back playing in front of a proper old school crowd, and that's the best environment to play darts in."
You can now book your tickets for the darts sessions online through the Westlands Entertainment Venue website.